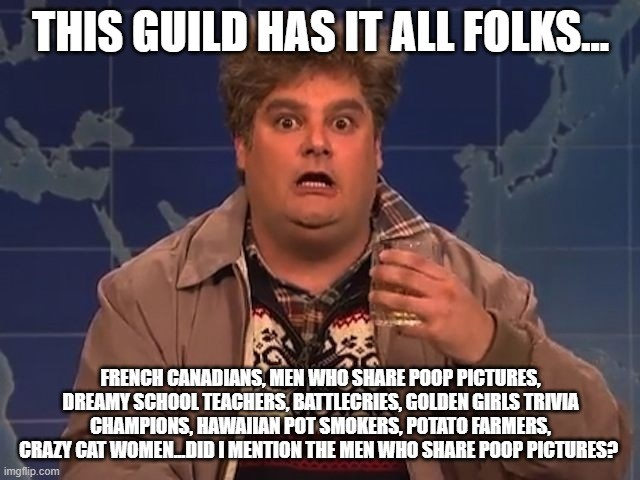 Aradune
Rolling right along on Aradune, MIM has completed classic and put it all on farm status. We defeated lag monsters, door bosses, leveled alts, split raid, and done just about everything else we can successfully.
Anyway, with that said MIM has a very limited window for recruitment to join our community on Aradune. We have room for 1 or 2 bards, and 1 or 2 DPS (Monk, Necro, Wizard only). If you are one of these, please reach out directly to our recruitment team (Bellemorte, Bajur, Fiveooh) and one of them can be of assistance in this matter. Kunark launches in just two weeks, so get on board now if you're one of those classes so you can enjoy our Kunark shenanigans for yourself!
In closing on this post, I'd like to remind the guilds out there that you can succeed in this game without being complete fucknut douchebags. There is a reason MIM cleared classic faster than certain guilds not to be named, and we did it without being cunts to the rest of the server. You can flex your nuts all you want, but we're better at EQ than you are, and we're better at life than you are. Re-evaluate your priorities if you're busy ruining other people's day over pixels. This has been a public service announcement from the MIM community.
Coirnav
Our Coirnav chapter is still trucking along. Coirnav nears the The Buried Sea and Secrets of Faydwer in the next couple of expansions, where they get into some of the prime expansions in the second half of the EQ lineage. These are expansions many didn't get to see, so if this is of interest to you, With great group and raid content, we encourage you to consider applying to join them if this is an area of the game that's of interest. The application link is available on the right hand side of the page. If you're an experienced player who needs help leveling up, I have no doubt many of our members in that community would jump at the opportunity to help you catch up in levels and get you acclimated to the current era on that server. For recruitment on Coirnav, reach out to Lynxal, Chimaira, Handjabs, or Matasata!
As mentioned above, The Buried Sea is fast approaching, and that one drops on August 26th for Coirnav.
*** For any questions related to recruitment for either server, register on our website and once done you'll have the ability at the top of the page to connect on our Discord! Reach out with any questions you may have. ***
​